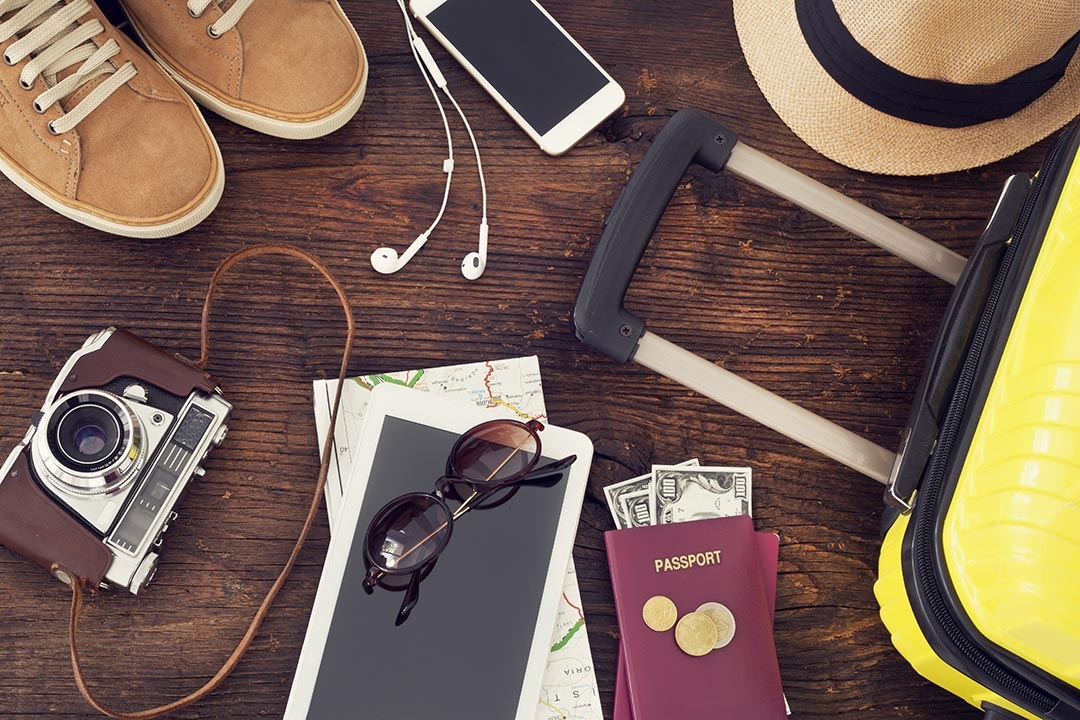 LESS IS MORE. Easier said than done, right? Here are 7 packing tips that I absolutely swear by – follow them and you'll be well on your way to perfecting the art of packing light for winter.
1. Do your research
What is the weather going to be like? Are you attending any particular events? Is it going to be so damn cold that no one will even see what you're wearing under your massive jacket anyway? Yes, so put back half of the things you've laid out to pack!
Hot tip: Going on an adventure to somewhere that might rain? Throw in a $2 emergency poncho!
2. Buy good quality gear
I have travelled to some mighty cold places, like Alaska, where it was -30 Celsius outside photographing the Northern Lights, and Sweden, dog sledding at -25 Celsius. I've certainly made some wardrobe mistakes in the past when it comes to winter, but my obsession with winter destinations has lasted a few years now, so I've got this clothing thing down to a fine art. You need good quality clothing. Especially if you're planning to chase the Northern Lights or photograph the Milky Way. Seriously, your eyelashes will freeze (which is pretty cool actually!), so don't skimp on quality. I get almost all my gear from Kathmandu, but wait for a sale, because it can be very pricey. My life-saver duck down jacket was actually from Esprit out at DFO on sale, and it is THE BEST. You don't actually need to spend the Earth, just make sure you're getting good quality materials that do the job. Think: proper thermals, merino shirts only, wind breaker jumpers, merino wool scarves, rubber-soled shoes, and duck down jackets. If you buy the right stuff, you'll need less of it. That means less space, less weight, and more warm!
3. Only pack the clothes you'll absolutely need
If you're second guessing something…take it out. I've learned to be brutal with my packing. Having travelled solo quite a bit, I can't rely on anyone else to help me lift my bag into the overhead shelf on a train – I even travelled solo through Europe in Winter with only 10kg! Also, research wether there will be washing facilities at the places you're staying. Most hotels and hostels have services/facilities available at a fee, and a lot of Airbnb properties have free facilities on site. And there's also laundromats! So, with that in mind, don't pack an outfit for every single day of your holiday – which brings me to #4.
4. Mix-n-match wardrobe
Go for a basic palatte of colours that you can switch around to mix things up. I personally wear a lot of black, so I should probably take my own advice (I'm working on it, I promise!). I have a lot of black, white and charcoal, and one green top! (Which you'll probably notice in all my photos now haha). But everything goes together, so I don't have to wear the exact same outfit everyday.
5. Minimal toiletries
This step may be harder for some than others. I personally don't have much makeup so that doesn't take up much room, and my hair is super low maintenance, so I don't need products (you definitely won't find a hairdryer or straightener in this girl's backpack!). I have a 50mL tub of sensitive skin moisturiser and wipes that come with me in my carry-on, and my Lucas Papaw lip balm (because you're not an Aussie if you don't travel with one!). I buy a small tube of toothpaste (because every gram counts when you've gotta heave that suitcase up the stairs on your own!), and I rarely take soap, shampoo or conditioner on trips anymore. Before you weird out on me and leave, hear me out! Most, if not all of the hotels, hostels, BnBs you stay at will supply these things. I'm not fussy about any of that stuff, and don't have special needs with products when it comes to my hair, so I just use whatever is there. A quick google search of the property will tell you if this stuff is available – if not, pack only a small amount. This is extra weight saved!
6. Think twice about your choice of shoes
Shoes, glorious shoes! I have a lot of shoes…but when you're travelling to a cold, snowy, winter destination, you have to use the dreaded 'p' word. Are they practical? Shoes take up HUGE amounts of space in your suitcase, and potentially a lot of weight if you're taking boots, so you must figure out whether it's practical to take the shoes you select. Here's what I do. I have one pair of boots. That's it. One. And they're awesome. They're designed to handle down to -30 Celsius, are rubber-soled and are wool-lined. They're super comfy, lightweight and very practical for the kinds of adventures I go on. Unless you've got a proper special event to attend, don't pack the heels girls…you'll regret it. We've all been there. Over the years, my travels have taken me to more off-the-beaten-track places, so fashion isn't as important as not getting frostbite, so my trusty waterproof boots are pretty much all I need. The only other thing I bring with me is a pair of collapsible black ballet flats. They take up no room, and are perfect for walking down to the hotel restaurant, or to the hostel shared facilities.
7. Keep a list
I'm not gonna lie, I'm a list person. My life is lists. So I'm not surprised I have a permanent travel packing list saved in my phone. This is good for a number of reasons. Firstly, insurance. If your suitcase goes missing, you have a list of exactly everything in your bag (touch wood that doesn't happen though!). And secondly, you can learn from previous holidays. I have fine-tuned my list over the years and figured out which things I don't use, and things I need to consider for my next trip. Hot tip: Bring a double adapter with you! If you're like me and take ALL the electronics, you'll need more plugs to power your devices.
*Music by www.bensound.com
DID YOU KNOW?
Jeans are designed to keep you cool!? Not ideal when it's -30 Celsius. Try some thick leggings with a synthetic/cotton blend. The synthetic material is warm, but the cotton keeps them breathable – I wear my thermals underneath and I'm super warm, and very comfortable!
What are your winter holiday packing secrets? Let me know in the comments below, or on Facebook!