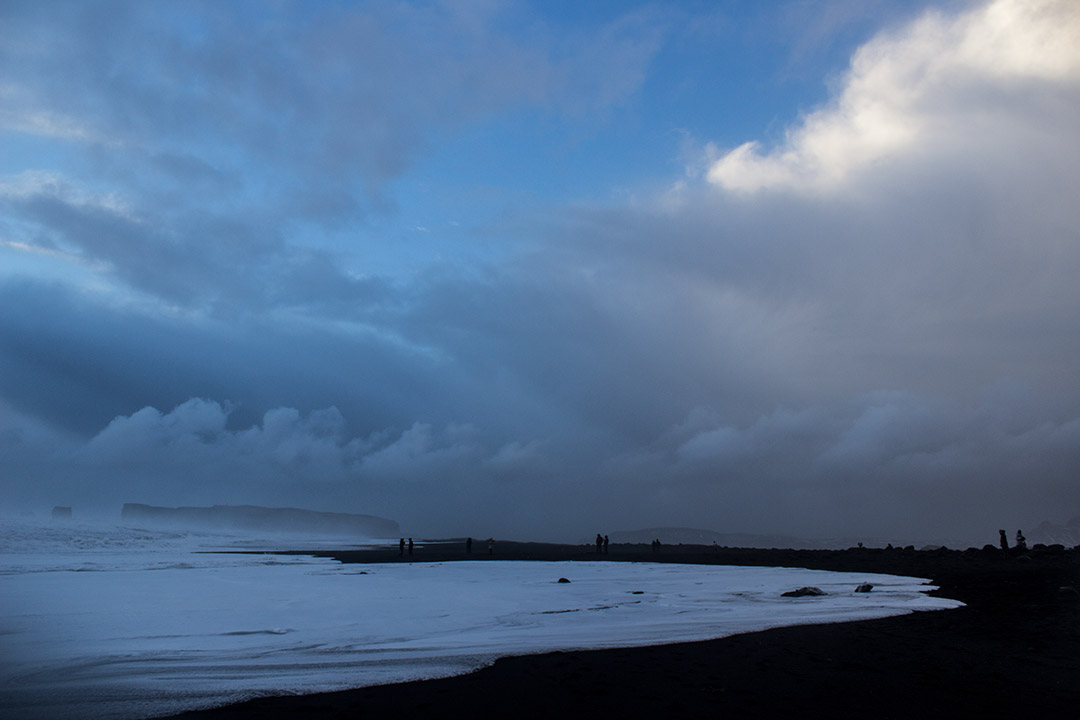 If I could describe Iceland in winter in 3 words, it would be:
Photogenic

Magical

Unpredictable
No doubt you've seen photos on Facebook of this stunning country – you probably even scrolled past a few photos before you even came to this post! Iceland is THE PLACE to go at the moment and you'd be crazy not to check it out. Yes, it is one of the most photogenic places I've ever been to, and yes, some of the locations like Jökulsárlón Glacier Lagoon and the Blue Ice Caves are so out-of-this-world you just need to see them to believe they actually exist. But one thing that isn't really spoken enough about is the unpredictable weather, and how this can affect your holiday.
If you're the kind of laid-back traveller who takes life as it comes, doesn't plan too far in advance and has the freedom to spend longer periods of time in places…I envy you. I'm trying to learn to slow down, but so far I'm doing a terrible job (and having a damn good time doing it). If you're more like me, and have spent most of your waking hours researching the 9324829 things you want to see/do/experience in every possible country on the planet, and you're heading to Iceland, then read on!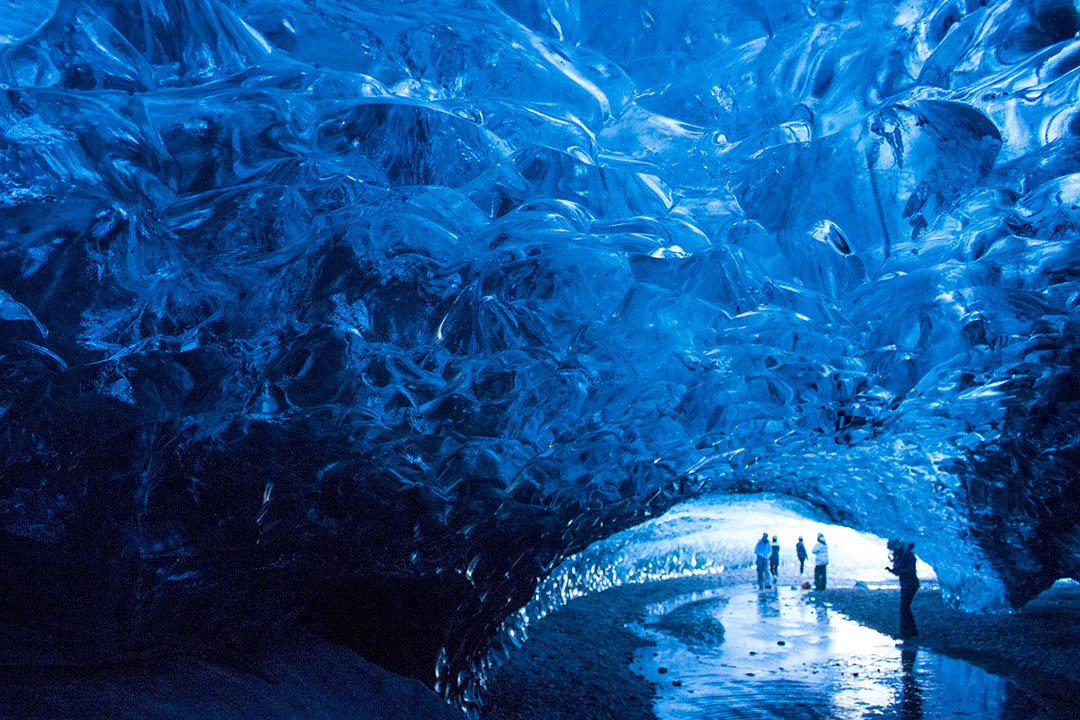 RAIN
It rains in Iceland. A lot. I made a quick little graph below with data from weather-and-climate.com to give you an indication of just how many rainy days to expect while travelling through Iceland in winter. So, in saying this, make sure you pack a raincoat of some sort, no matter what month you are travelling in. It doesn't matter whether you're on a coach tour, like the one I did with Extreme Iceland on my first trip,  or if you're doing a self-drive itinerary, you are going to want to get out and explore. It's better to be prepared with a raincoat, then to end up sick from catching a cold!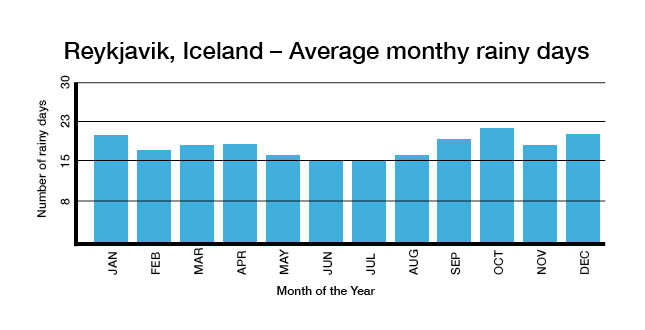 WIND
It is damn windy in Iceland. Let me tell you a little story about this one time I nearly got blown off a lookout while at the top of Skógafoss – a beautiful waterfall on the south coast of Iceland. So, it was January, the coldest month of winter to visit Iceland. The epic staircase that led to the lookout was covered with slippery ice and was a mission to climb as it was. I was prepared for the winter cold. I had thermals, merino shirts, jumpers, gloves, beanie, scarf, you name it, I was wearing it. I also decided to borrow a wind-proof jacket from my cousin, Shane. I'm just going to point out the obvious here – he's a LOT taller than me – if you can't already tell from the stunning model-esque photo of me below. I awkwardly climbed to the lookout at the top of Skógafoss and as soon as I set one foot up there, the wind picked me up like a feather and slid me across the icy platform! Shane's gigantic windproof jacket had turned me into a sail – literally! Although I was very warm, this experience pointed out to me that it's worthwhile having a wind-proof jacket that fits you… unless you want to use your jacket as a parachute and go ice-surfing in winter. (Actually, that sounds kinda fun – just not off the top of a waterfall…)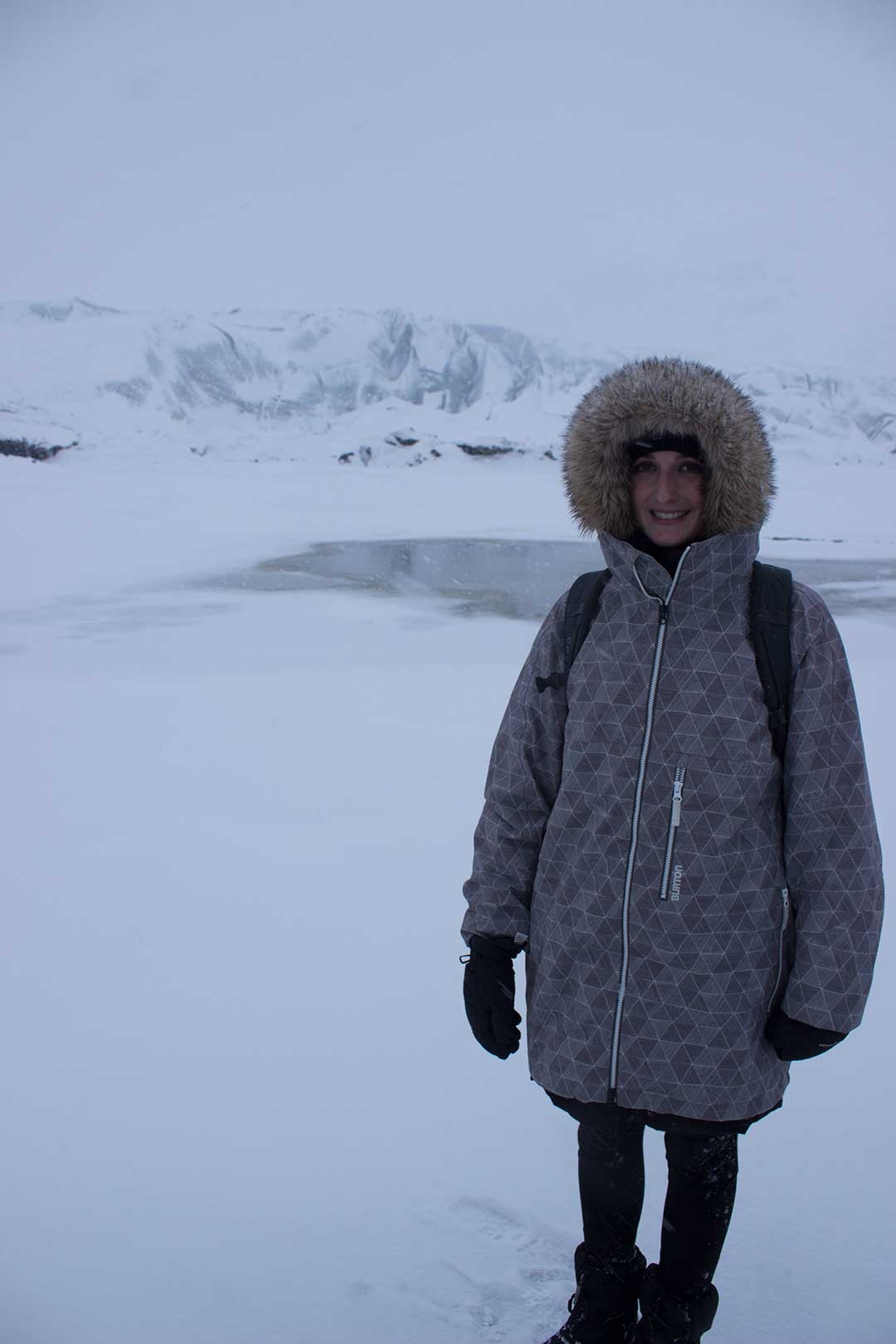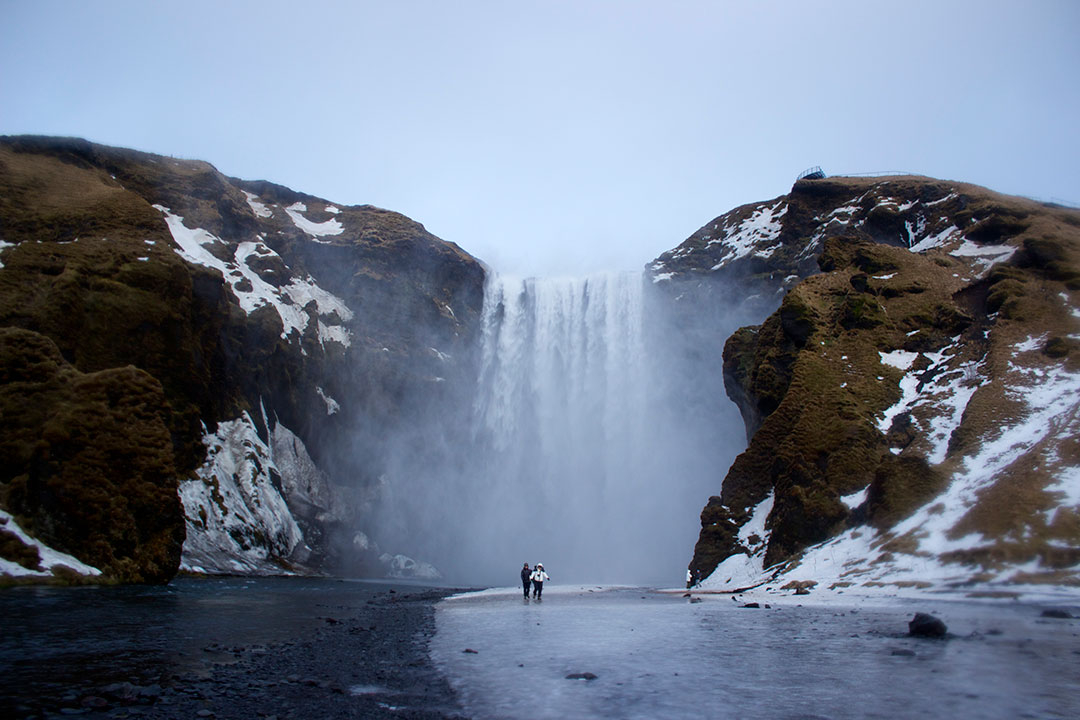 CLOUDS
I've said this before, but if you're travelling to see the Northern Lights in winter, you need to research other things to do when in these magical destinations. Mother Nature is an absolute goddess, but she can also be a downright b!tch when she wants to. Iceland sits right under the Auroral Belt and has become a popular destination for Northern Lights hunters. However, there are SO many other things to do in Iceland in winter as well, like dog sledding, climbing frozen waterfalls, relaxing in hot springs and hiking glaciers. All of these things you can do when it's cloudy and they're all awesome. Northern Lights hunting when it's cloudy? Not so awesome. Be prepared for this, and don't let it ruin your holiday to one of the most magical places on the planet.
SNOWSTORMS
My first visit to Iceland was in winter a few years ago now, and it was no where near as popular back then as it is today. There were just 4 people on my flight from Norway, and when I hopped off at Reykjavik Airport, I had no idea where to go. After waiting for 30mins for my transfer, I sat in silence as the only person on the bus. It was super windy outside and had just started to snow. When driving down the highway, it suddenly turned white outside. The driver slowed the van right down and at one point nearly came to a complete stop. The van was being pushed sideways off the road. This seemed like life or death to me, for him, it was Tuesday. He explained that if you don't like the weather in Iceland, just wait 5mins. And sure enough he was right. It wasn't long before we were back on track and I could see blue skies ahead.
Hot tip: I wouldn't recommend a self-drive holiday in Iceland in the middle of winter unless you're used to driving in snowy/icy conditions. The driver told me that most accidents on Iceland's roads are from tourists not knowing how to react properly in these situations. Do your research and please be safe.
WHAT ELSE?
When I started writing this post, I didn't mean for it to be all doom and gloom. Of course it's not always miserable – in fact, while on my winter trip, there were plenty of crisp, clear nights and just about every time we pulled up to a place of interest, the sky cleared and the sun came out. Ridiculous.
The winter weather in Iceland is part of the package. It's just something you need to embrace about the country. It just makes the experience even more different to what I'm used to, it pushes my comfort zone and challenges me and my packing list. You know what's fantastic about cloudy weather – photography. Iceland is the perfect destination to get those moody shots with roaring waterfalls in the foreground. I can't wait to head back in April for this specific reason. If you check out my Instagram, you'll see I'm all about the colour. So this year I want to challenge myself and work on nailing that greyscale Iceland is known for.
Hot tip for DSLR users: Make sure you take your camera bag out with you and let your camera adjust to the temperature slowly, before taking it out. I made this mistake in winter and the mirror inside fogged up and I was unable to take photos until it was clear again. This is particularly important if you're hopping in and out of a warm car/coach, or if you're going outside to photograph the northern lights.
Is there any other weather tips you would suggest when visiting Iceland in the middle of winter? Do you have any other questions about travelling to Iceland in winter? Let me know in the comments below, or hit me up on Facebook or Instagram.