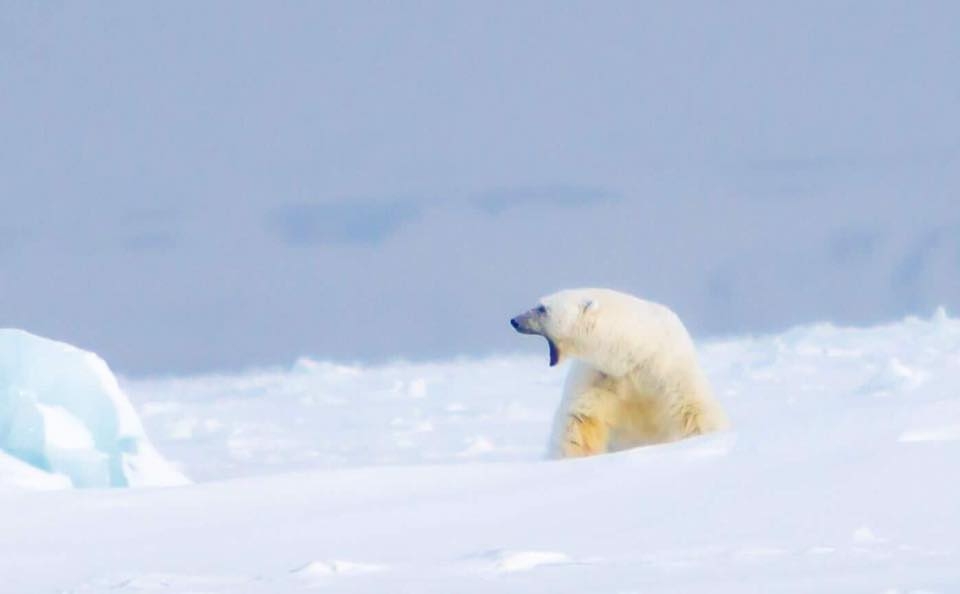 Svalbard is my new favourite destination as of April 2017.
…but you can send me anywhere in the Arctic and I'll feel right at home!
The main reason I wanted to venture as close to the North Pole as I could, was to try and spot the King of the Arctic, the Polar Bear!
I did a lot of research in preparation for my adventure and found that one of the best places to see Polar Bears is over on the East Coast of Svalbard – the opposite side to the town of Longyearbyen where you fly into. I came across an awesome small group adventure company called Spitzbergen Adventures and contacted them for some advice on the best tours to quench my Arctic wanderlust. Here are the three tours I did:
Photography Tour of Longyearbyen
Dog Sledding to an Ice Cave – check out the video HERE!
Snowmobiling to the East Coast
I'm going to jump the gun and talk about number 3 in today's post because that's where the Polar Bear magic happens!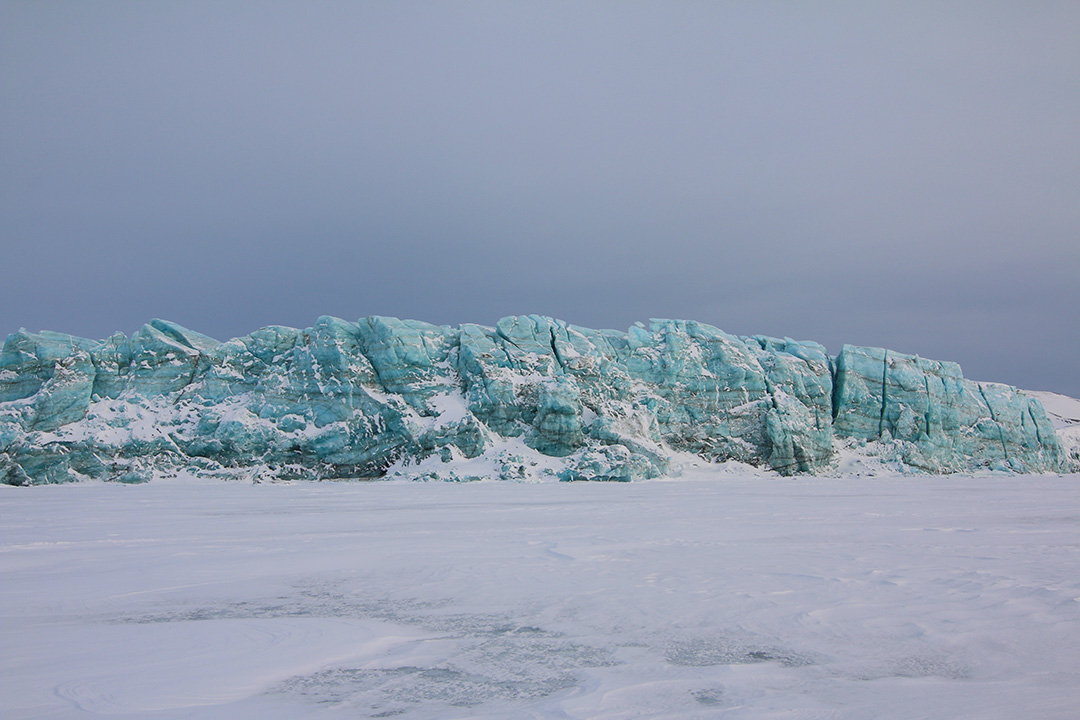 You can't just go exploring on your own in Svalbard. The terrain is wild and the temperature is harsh, but more importantly, you need to be able to protect yourself in the event of a bear encounter going wrong.
There are 2642 people on Svalbard and over 3000 Polar Bears.
Polar Bears mostly keep to themselves and are way out near the sea ice looking for food, but that still means that anyone leaving the town limits must be escorted by someone that has, and can confidently operate, a rifle. Our guide, Doreen, briefed us while we suited up in a million layers in preparation for our snowmobiling adventure. There were only 4 people in our group and I was a little nervous as I'd never ride a snowmobile before, but it's easy to pick up (and a LOT of fun!).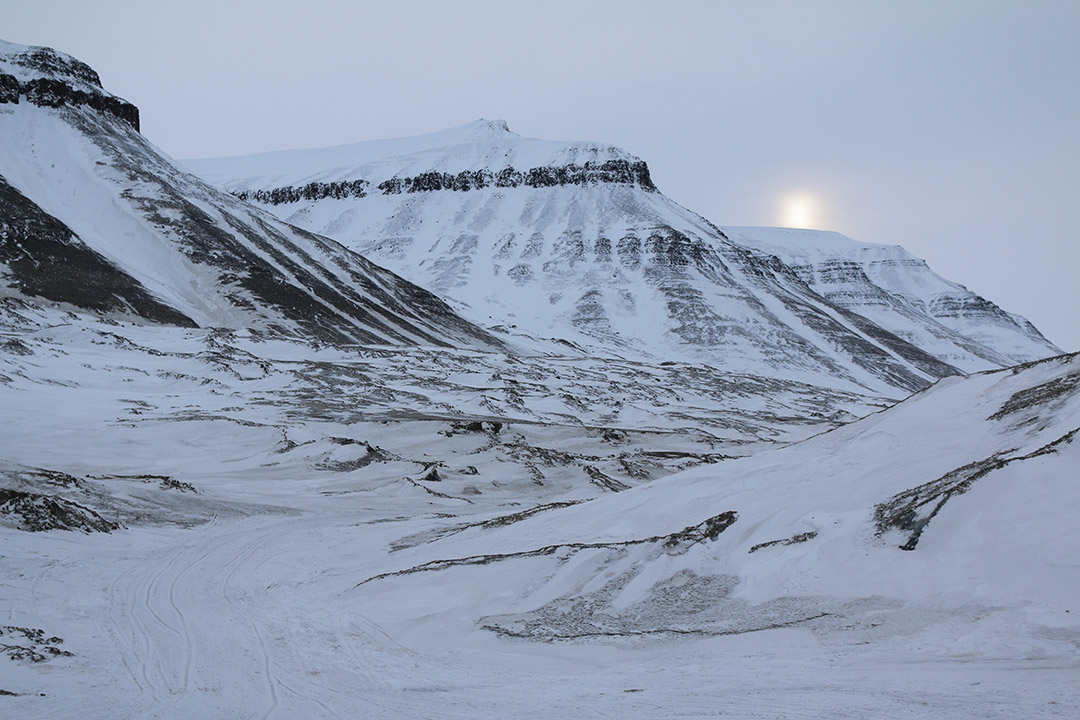 With the wind on my face, we set off through the Arctic, not a single tree in sight. For as far as the eye could see, the vast landscape was crisp and white. Rough black mountains covered in year-round snow towered either side of me as we followed the valley towards the rugged East Coast. Looking around at the magical, untouched wonderland, I actually started to cry – it's just that beautiful and I'd finally made my dream of visiting Svalbard a reality.
That reality promptly smacked me right in the face when my tears of joy turned into spears of frozen ice!
Note to self: Don't cry in -30°c when you're driving a snowmobile at 60km/hour; your tears will freeze and your helmet shield will fog up.
We made a few scenic stops along the way, including this magnificent frozen lake we had to carefully snowmobile across. The rich blues of the ice were a stark contrast to the white snow surrounding it. Then it was time to jump back on the snowmobiles for the ultimate Polar Bear search.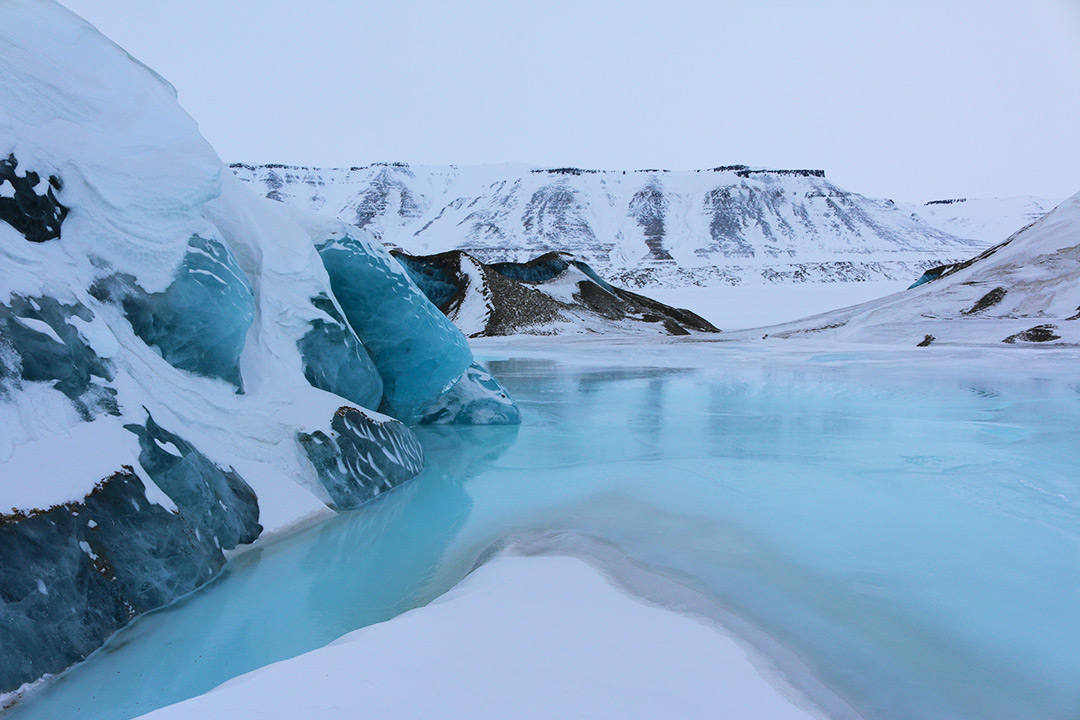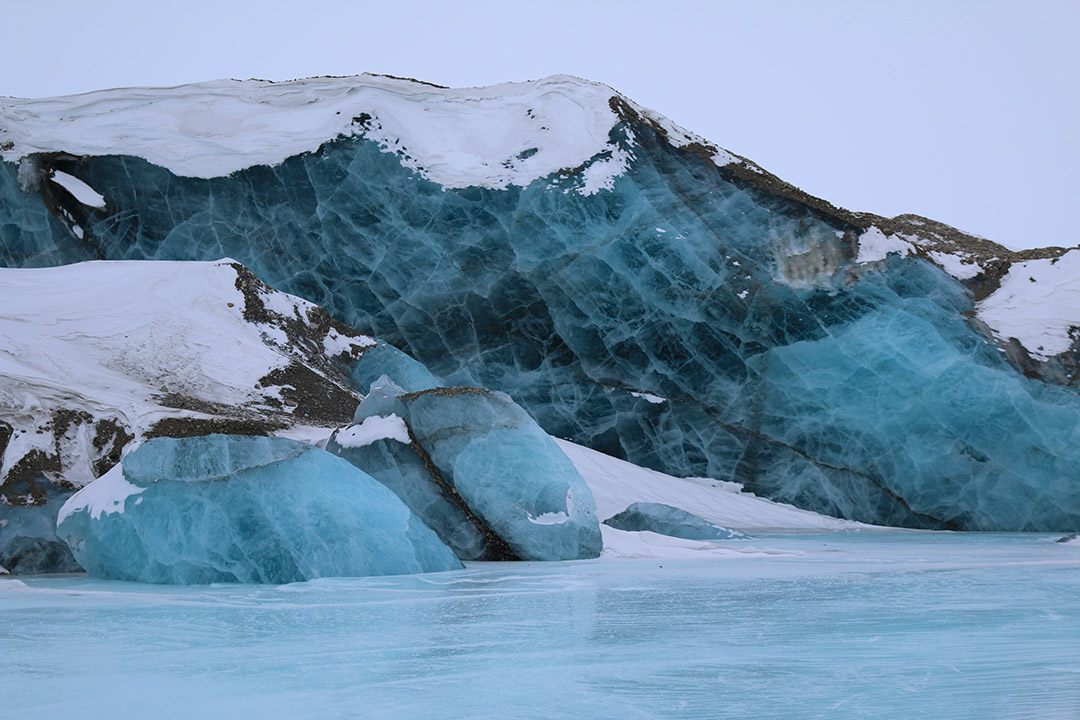 I kept my eyes peeled at all times. Is that a Polar Bear?! No, just ice. What was that?! I swear that moved! Nope, just more snow. Then our guide, Doreen, stopped to chat to another passing guide and he quickly pointed directly ahead of us. WE WERE OFF! Let's go! Let's go! Let's go! Full steam ahead, manoeuvring around huge ice formations and battling strong wind and freezing temperatures; nothing was going to stop me from spotting the Ice King.
Dorren called us to a halt, we switched off the engines and jumped off in anticipation. Where? Where? Where? Everything was white! I couldn't see anything…
And then the mighty Polar Bear stood up.
There he was, just 200 metres ahead of me, camouflaged in front of an icy mound. He had heard us. He was watching us. He was working out whether he needed to prepare for battle. A female Polar Bear and her cub had been spotted earlier and the circle of life has taught the locals that male Polar Bears will attack cubs so the female will mate with them. He was inquisitive. He got up and took a few paces towards us. My heart was racing! The elusive Polar Bear, the King of the Arctic, was right there in the wild, staring at me. This was a dream come true, and in that perfect moment I couldn't have asked for anything more.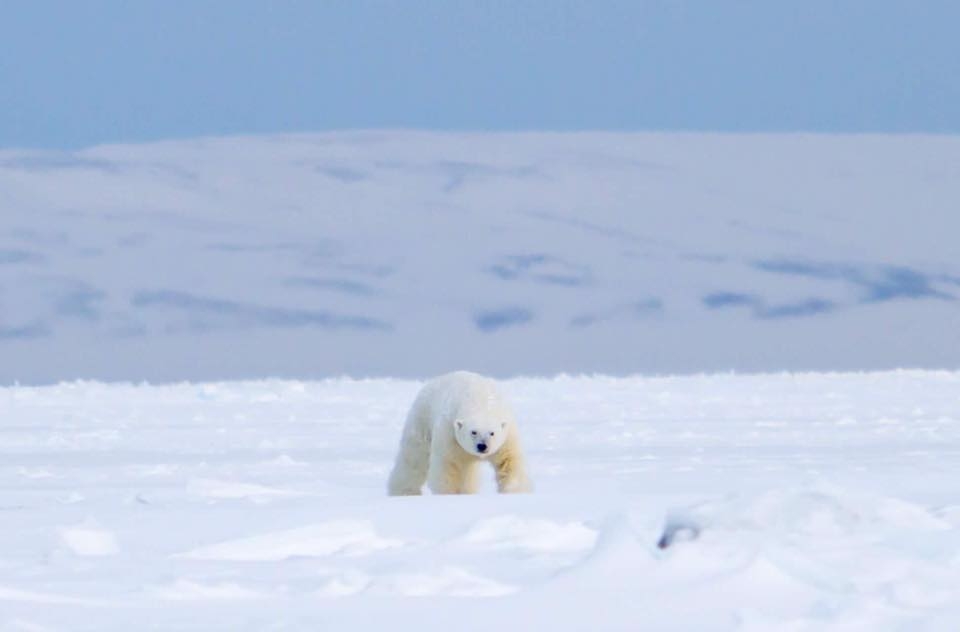 He determined we weren't there to bother him and that we certainly weren't going to move any closer and set foot in his territory. So he wandered around and we used binoculars to see him right up close, in between jumping around and squealing for joy (no tears this time, I learnt my lesson!).
My camera lens is not ideal for wildlife photography, and my new friend on tour, Günter Becker, has kindly let me post his incredible photos of the Polar Bear we spotted on the day. This amazing experience is one I'll never forget and one that I really hope isn't a once-in-a-lifetime moment.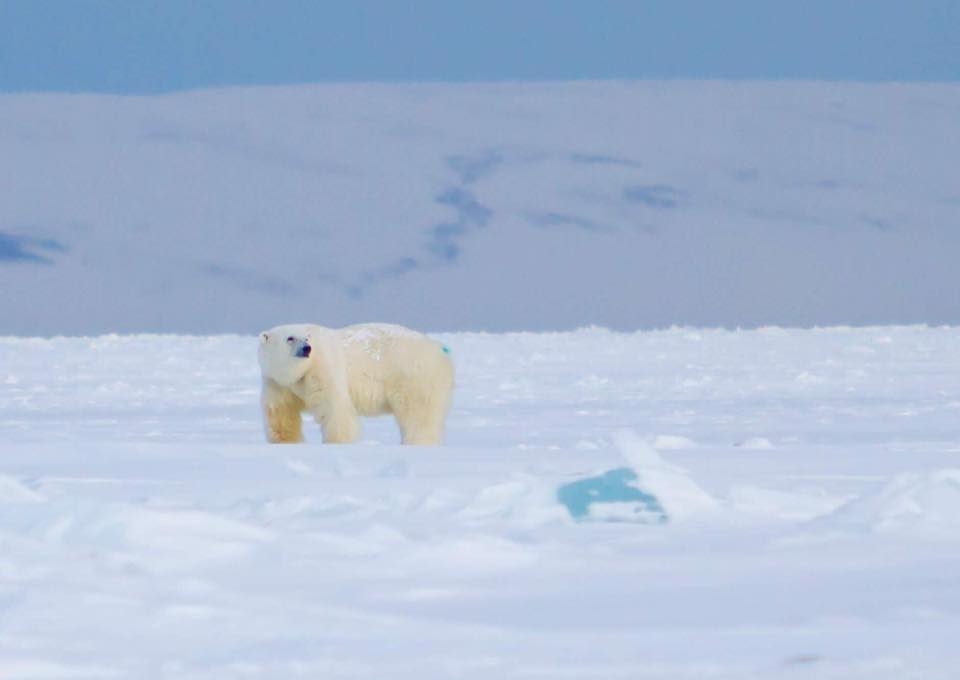 After taking everything in and getting one last look at the mighty yet graceful Polar Bear, we jumped back on the snowmobiles for the long, fun, and picturesque journey home. All up, the full day tour out to the East Coast of Svalbard is a 200km round trip. It's a great way to see the wild landscape and one of the best chances you can give yourself to see a Polar Bear in the wild.
If you follow me on Facebook, you would have seen my update about being busting for the toilet. Well, when you're up to 100km from civilisation in the middle of the Arctic, there are no toilets, and definitely no trees to hide behind. With another hour and a half of snowmobiling over bumps and around bends, I really didn't think I'd make it home as my bladder was bursting and I was now in pain!
"You haven't lived until you've peed in the Arctic" – Doreen, April 2017
Doreen's encouraging words of wisdom were the push I needed to take 50 layers of clothing off in -30°c and show my bare butt to the wonderful white Arctic tundra. Not ideal, I know, but when you gotta pee, you gotta pee! In my defence, Doreen and two of the other group members needed to pee during our 9 hour adventure as well. But they chose a better time – during lunch, behind a massive iceberg. Maybe the cold froze my brain a bit and I missed that plan… I guess we'll just put it down as another exciting adventure while exploring the Arctic.
Have you visited Svalbard? Or tried snowmobiling anywhere cool? Let me know in the comments or follow me on Facebook or Instagram for more exciting photos.