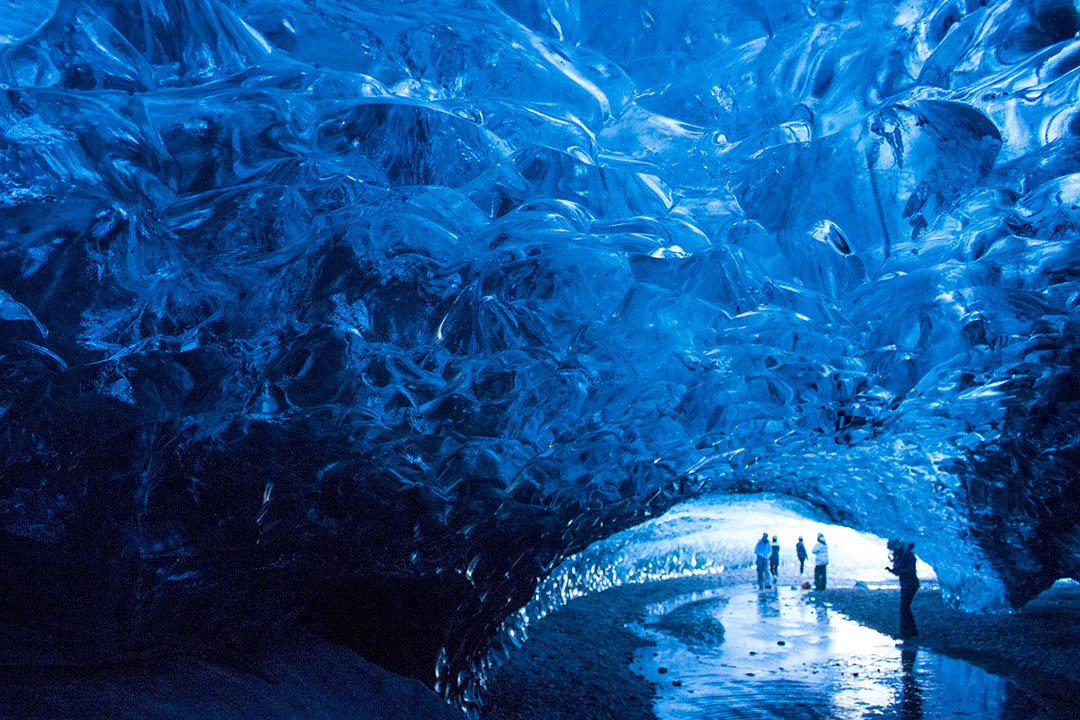 The first time I visited Iceland, my mind was thoroughly and completely blown. Never have I been so amazed by landscapes while travelling – particularly the blue ice caves of Svínafellsjökull – it was just unlike anything I'd seen before.
Flying into Iceland's capital, Reykjavík, in the middle of winter, I was lucky enough to have a window seat and clear skies. As far as the eye could see, it was just flat black and white, with the occasional volcano and roaring waterfall in the distance. Iceland has less than 2% forest and tree cover throughout the country, which makes for a very different landscape to what I'm used to. Also, the ground is primarily basalt – a very dark, fine-grained volcanic rock. Cover that with a bunch of snow, and you have Iceland.
But, Iceland is not just black and white. It's also very blue. From the occasional clear blue sky, to the famous Blue Lagoon. And from the diamond beach and glacier bay known as Jökulsárlón (my favourite place EVER – blog post coming soon), to the blue ice caves of Svínafellsjökull that you see in this post. The magical wonderland that is Iceland will have your jaw on the ground the entire time, no matter what season you visit. (P.S. I'm going back for Spring this year! The snow will have melted and the waterfalls will be even more insane!).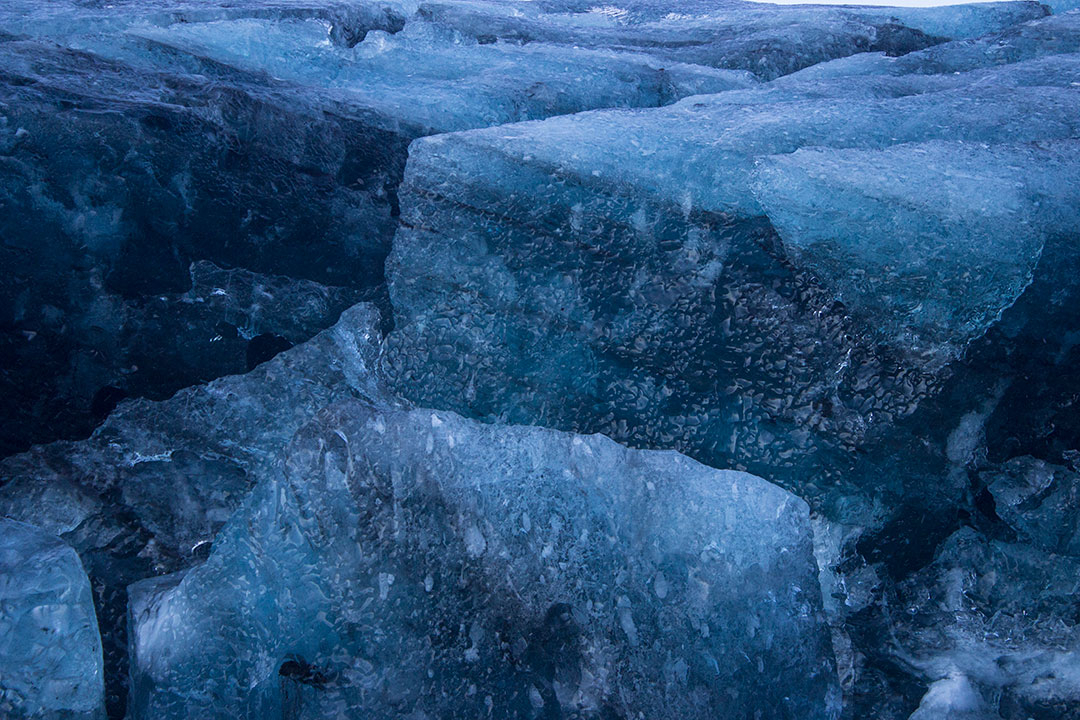 Heading out to Skaftafell National Park to visit the Vatnajökull glacier was a bumpy ride. The 4WD we took out to the glacier with Extreme Iceland was rugged yet sturdy, and made for a fun journey over rocks and through shallow mud. On the way, we were captivated by tales of Russian Cosmonauts coming here to train for space missions. Being an astro-nerd, this just made the trip even more exciting!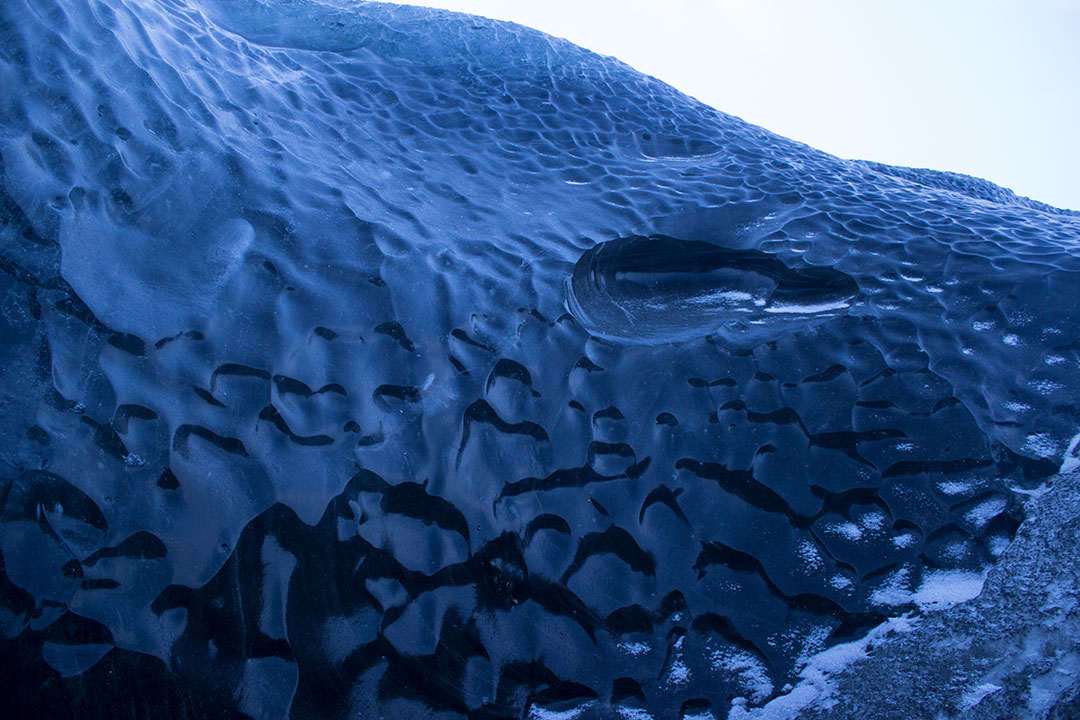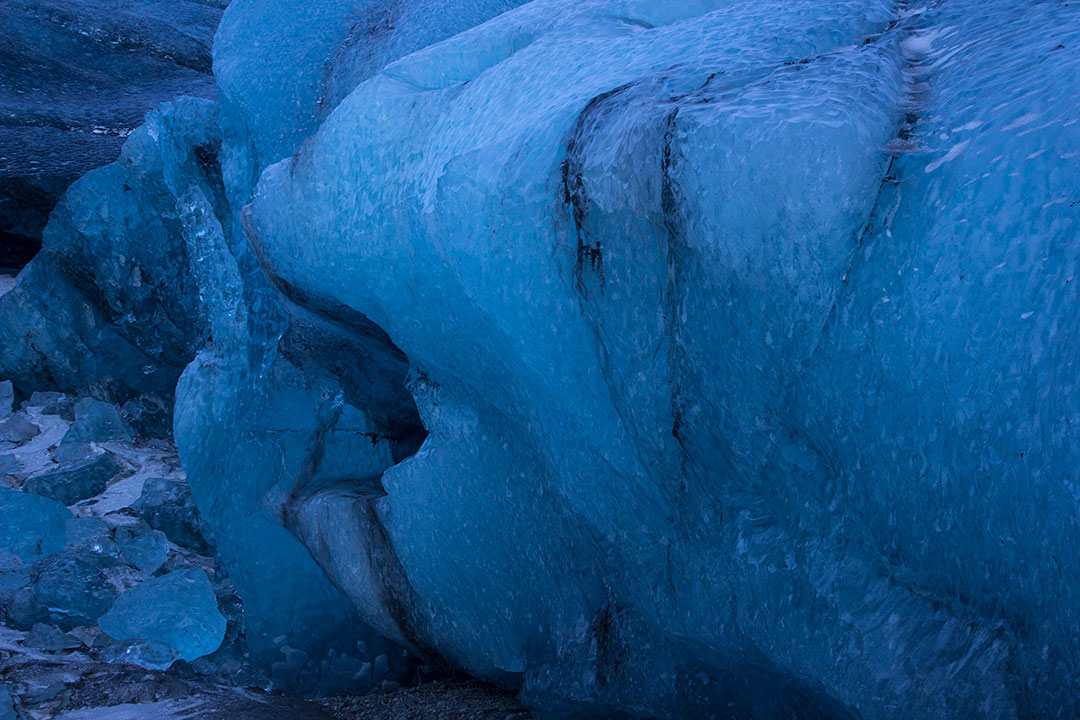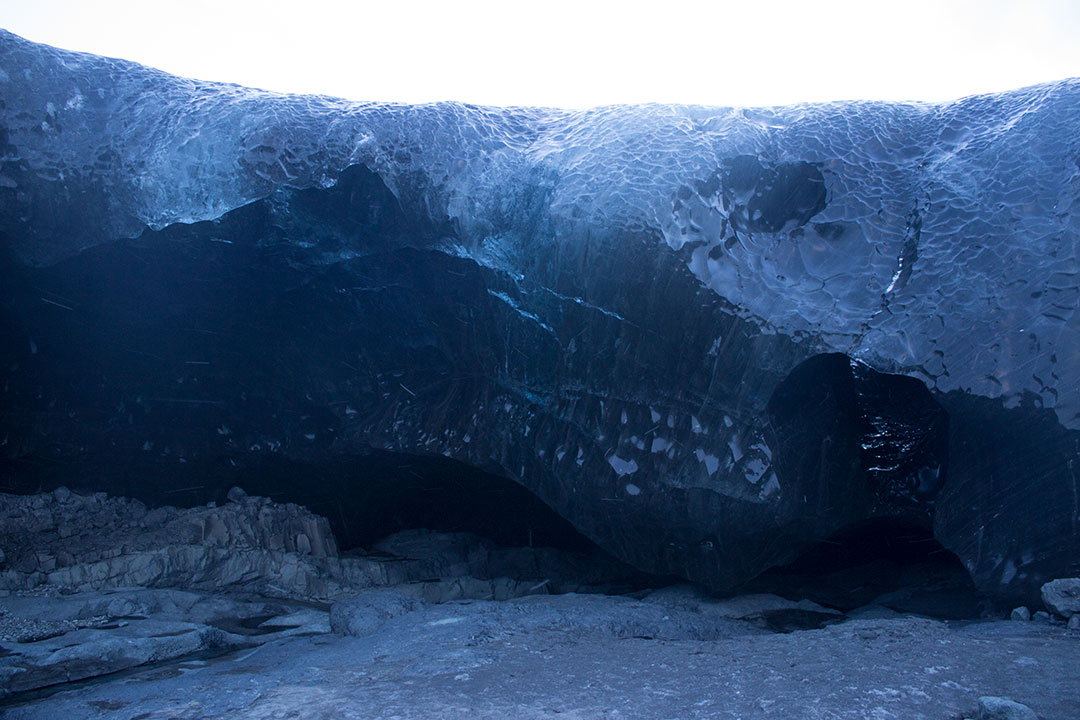 Vatnajökull is huge. Seriously. It covers 8100km2 with a maximum thickness of around 1000 metres! Did you know that there are actually volcanos under the ice cap? This is the case with many glaciers actually. During Summer, the ice caves are usually too unstable to take guests through, however, during winter it's a different story. Very slowly, some of the water melts and small streams form under the glacier, creating the beautiful ice caves, or crystal caves as they are sometimes known. Upon reaching the glacier and admiring the surrounds, it was time to head into the Blue Ice Caves of Svínafellsjökull, which is part of Vatnajökull.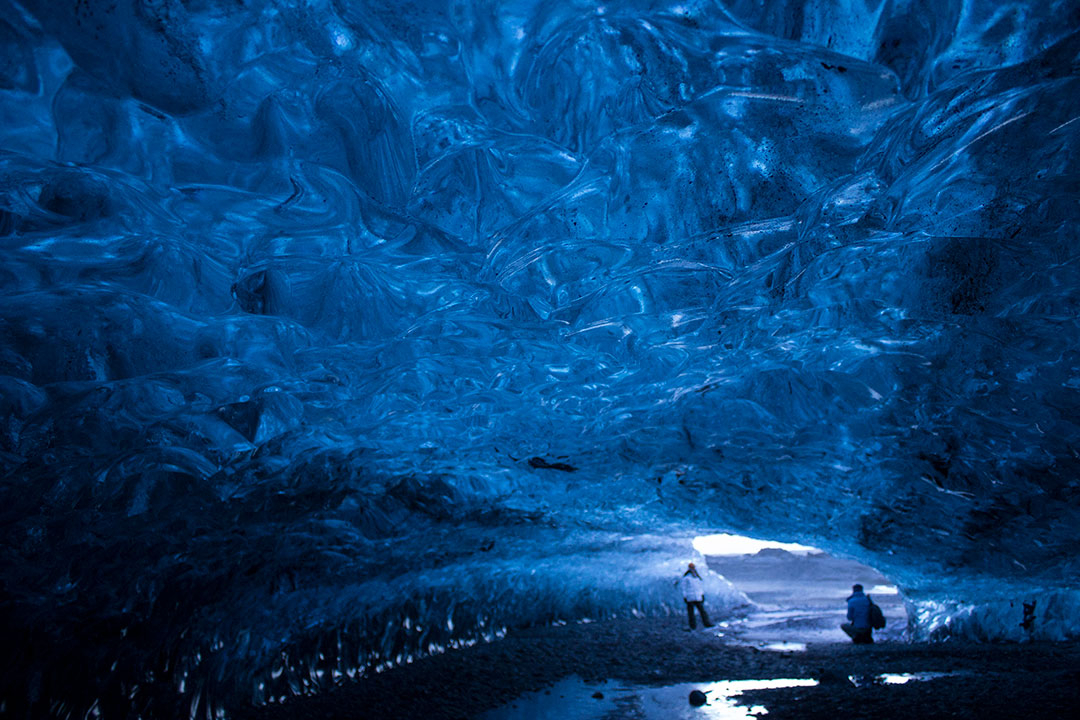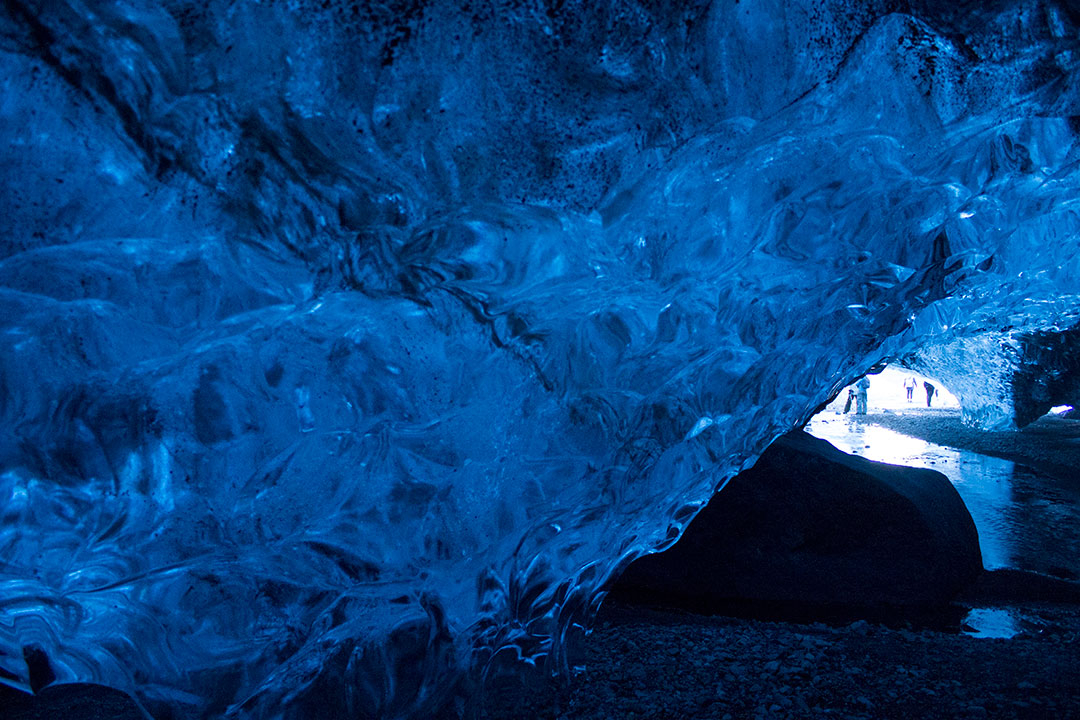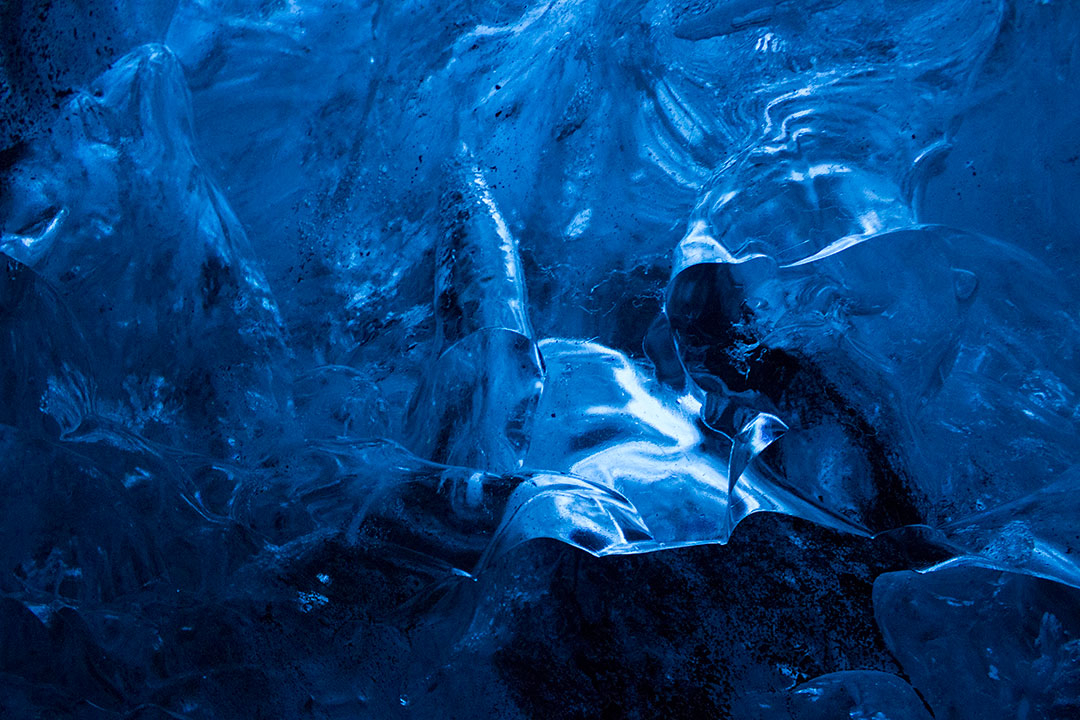 The incredible blue is caused by a few things, but in super simple terms, the ice (plus other matter, like dirt, stones and organic matter) is compacted over thousands of years which results in almost no air trapped inside. Because of this, the colour spectrum we see is absorbed into the ice, bar the blue. Combine this with ideal midday lighting outside, the result is the magnificent blue ice cave photos you see here. Enjoy!
If you have any further questions, let me know in the comments below, or hit me up on Facebook or Instagram.